Sponsorships of tattoo artist Lainey Bee
Why is the sponsorship of tattoo artist Lainey Bee important? The tattoo industry is a very big and growing industry. Each year there are hundreds of international tattoo conventions. Magazines, tv shows, suppliers, sponsorships, multiple tattoo styles and to many artists to count! The Netherlands alone has thousands of artists. Lainey Bee is just one of them.
Now there is something very special about Lainey Bee. She got hand selected by some of the best brands in the industry! They recognized her as a professional. An artist that stands out in her style and work. This is a very special thing to happen to an artist and will only happen to a few!
Lainey Bee is Netherlands first sponsored Pro Team artist by some of these big brands!
Sponsorship by ink brand Fusion Ink.
One of the world's biggest and baddest inkbrands. Lainey has been working with this brand since she started doing color tattoos.
This is the cherry on top of all her hard work. The 24th of November 2019 she got asked to be in the Fusion Pro Team! She is the first Dutch artist to get sponsored by them! A sponsorship and being a part of this 'ink family' is very special! If you don't believe it, check out all of the other great artist in their pro team! And if you're an artist and you haven't tried out their ink….. DO IT NOW
Wipeoutz, towels for tattoo artists and clients
In May 2019 Lainey got asked to attend the Kaos theory Project by Ryan Smith(an honor by itself). A prestigious project that let's artists (the best up-and-coming, masters and legends) collaborate. In this project Lainey tattooed her now famous trademark 'grapes' in her collaboration with Kirsten Pettit.
When Legend Mike de Vries, also a part of the project, noticed her grapes he asked if Lainey could tattoo him with grapes as well! A very big honor! Mike is one of the legends that started the style 'realism'. Lainey started covering up Mikes older work on his arm with some amazing grapes. After this he decided she could tattoo his whole lower arm! No pressure! 😉
Afterwards Mike de Vries asked Lainey to be in his Pro Team as well. He developed a sterile tattoo towel; Wipeoutz. This sponsorship provides Lainey Bee with the only towel she now uses on her clients while tattooing. Go and get them at www.mdwipeoutz.com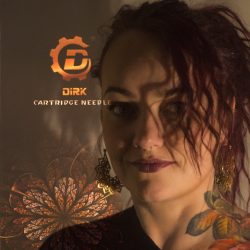 Sponsorship by Dirk cartridge needles
March 2019 Lainey attended the Thailand Tattoo expo in Bangkok, Thailand. This is where she met the owner of new needle brand Dirk Needles from China. He was very impressed by Laineys work and asked if she would want to be in his Pro Team. Lainey had never used his needles (cartridges) before and because a sponsorship isn't something Lainey Bee takes on without absolutely loving the product she took some home to try them first.
She had been looking for a good needle brand for years now, switching between different brands, she had never found the perfect one. And you already guess what happened right? She absolutely fall in love with them! If you're an artist make sure to check them out!
Fkirons, the machine brand every tattoo artist wants
February 2019 Lainey got hand selected to attend one of the biggest most prestigious tattoo conventions; The Milano Tattoo convention in Italy. And as if that wasn't big enough of an achievement…
When she was tattooing, the owner of FKirons walked into her booth, filming her and telling her how much he loved her work! During a break she got asked to be in their Pro Team! For those who don't know who they are; this is one of the biggest brands of tattoo machines!
Something Lainey definitely didn't see coming, hell she didn't even knew they where following her! (Again she's the first Dutch artist to be on their Pro team!) If you want to see the video of how Gaston walked into her booth, check out her Instagram tv. And if you want to get your hands on one of their machines go check 'm out!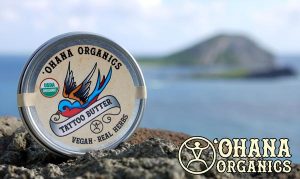 Lainey Bee's first sponsorship; Ohana Organics
In aug 2018 Lainey met the OhanaOrganics Family. An amazing and super kind family that had been following her work. They let her try her aftercare products and tattoo soap and asked if she would be a part of their Ohana(family).
As a matter of fact if you are looking for an all vegan, homemade, tattoo aftercare or just a great skincare product this is where you need to look!
Offcourse you can also get the tattoo after care products at Lainey Bee's tattoo studio Custom Cult. Check out how to use them: aftercare instructions.