Lainey Bee's Biography
Lainey Bee's vision shines bright in her biography. She is a busy bee with 101 ideas that are quickly transformed into activities. An entrepreneur and an artist full of passion.
The Story of Lainey Bee, my biography 😉
I grew up in a small town in the Netherlands. Yes I am Dutch (I know the name Lainey Bee sounds very USA 😉 ) and speak Dutch but I choose to write in English so that everybody can understand me. Although I am hoping that this Biography is readable and understandable for all that want to read it and my vision on tattoos becomes clear.
As a little girl painting, crafting and drawing were my passion. I loved to lose myself in it for hours. Coming from an artistic creative family it came naturally to me. My mother is a natural carpentry and works with plants and flowers. Dad is a beekeeper and paints and draws beautiful realistic landscapes and my brother is a landscape contractor and designer with his own business who designs and installs the most beautiful gardens.
Passion?
Actually, I never thought I had one specific passion, although school was only fun for me if I could go to drawing lessons or crafts. Because the school system learned me I had to earn money to setup a life and arts were just for fun…(I guess not everything they teach you is correct)
I soon became interested in psychology and physiology which resulted in the study of Naturopathy and Child Psychology. After working with young adults for several years (project management for the new arts in Arnhem, guidance in boarding schools and juvenile prison) I got ill. I couldn't work for a number of years, which was horrible! Doing nothing is clearly not my thing! Luckily it also taught me about being patient and working with passion and discipline.
Slowly I started working with my parents at their beekeeping farm where they also worked with autistic children as part of their schooling program for the Department of Daytime Activities. Although their vision is amazing the work did not give me enough energy. I was missing something.
Didn't know what but it was clear that I had to go in a different direction. I decided to stop and before I knew it another door opened. Working as a shop manager and piercer in a tattoo shop. Between my tasks, I filled the time by drawing. The passion for art came back to me. Something that I had not done in years gave me energy again. I was motivated to tattoo and create art.
Time to create art
Practice makes perfect, so I threw myself completely into tattooing. My vision grew and I soon knew I wanted to create a place for art. No flash tattoos but custom tattoos. Not an oldskool, walk-in tattoo shop but a tattoo studio. A place where I can work for the love of tattoos and that of art. Somewhere I have the time for personal contact with my customers and can really design something suitable for them. Eventually I wanted to create a place where I can be in balance with myself. Being a busy bee with 101 ideas that are quickly converted into actions. I dare to take risks and fight for what I want and for the people around me.
A dream come through; I established Flowinkstudio on October 13, 2014. It started in a small private studio with endless possibilities! Flow; the optimal state of experience, applies to both me and the customer. To me the world is standing still for a moment when I'm tattooing. That's why I only work in a good vibe and thought this would be a very suitable name for my new 'home'.
There is no limit to my development. Tattooing art which I stand behind, with my love for detail and nature showing in each piece. Embellishing the customer's body with an experience that suits their body and personality. We capture a part of their life in symbolism. I started out as a black and greay realism artist until I discovered the power of color! My style now describes itself best as 'realistic color tattoos with a painterly twist'. Nature, still lives and emphasizing the shape of my clients body with my signature style brushstrokes, flows or geometric shapes, is what I love best. Vibrant colors with lots of contrast so the tattoo will last a lifetime!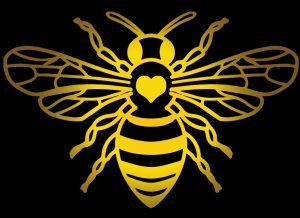 Flowinkstudio 2.0
The studio grew. I wanted to continue my love for the profession and my awesome customers in a larger line; involve more artists in the Flowinkstudio process, creating love for art and reaching international customers. Flowinkstudio represents who I am and what I want to convey. It is a studio that delivers quality and has a positive organic flow in its appearance and working method.
3 years later (and after 3 months of blood, sweat, and tears of remodeling an old building) I moved Flowinkstudio on October 1, 2017, to a larger building to make all my dreams come true. From a small private studio(450 sqaure feet) to a building with about 2,000 square feet! An old, neglected building became a beautiful serene transparent studio which I am very proud of. The team grew bigger, Robert and Sam joined me as studiomanagers and 10 artists joined! Strong teams with a good relationship can move mountains and you can see that!
My own international career is gaining momentum and Flowinkstudio is well filled with great artists! I travel the world to attend some of the biggest tattoo conventions and guest with colleagues and friends in their studio's.

Custom Cult
In 2020 we all got hit by the corona virus. We couldn't tattoo for 2,5 months in the first lockdown and the whole world stood still. It gave time to think about my initial vision on my work and plan the next move! Since my international career was buzzing and I was gone for half of the year I came up with a new exciting path to take! I build this studio to work with others to share the love for the artform of tattooing and grow by sharing knowledge. For this reason I approached another studio and asked them to join forces!
It was a positive boost we all needed to come out of this crisis even stronger! This calls for a new name! I renamed my studio;
CUSTOM CULT -Tattoo Collective –
Custom; because we want to design a unique piece of art for you, based on your wishes.
Cult; a small, but very active subculture of people who are fans of a certain artistic expression.
No longer a collaboration between studio's
We had some turbulent years during the Corona crisis in which we were allowed to work occasionally due to lockdowns and curfews. The collaboration was born from my ideal which unfortunately did not last because of too great a difference in work ethic. The other studio decided to quit her business and I moved on to working with artists that fit my ideals better. 2022 Custom Cult is no longer a collaboration between 2 studios, but a collaboration between fantastic artists.
The Future is shining bright! I handpicked over 25 artists specialized in 20+ tattoostyles who, with love for their profession, there clients and art form, can't wait to design your next custom tattoo!
Stinger Storage created by Lainey Bee
Being well organized is very important to me. As my clients know I am always on time, I have my station set up before they walk in and my studio is always clean and well organized. Being a creative person that loves a good flow there has been 1 thing that had always bugged me; the organization of my cartridge needles.
When I tattoo I use about 5-8 different configurations of needles. Unfortunately the boxes these needles come in all look the same and the configuration is always on the bottom of the box! How inconvenient! Every day I have to go through all the boxes, find the right box and take out the needle. Because of this it's hard to keep track of inventory and you'd sometimes end up with empty boxes. This had to change!
I started working on a solution in 2016, build a cabinet from wood to hold the needles. It was big and the material wasn't smooth enough. Then I build another from Plexiglas but still it didn't have the effect that I wanted it to have. I contacted multiple companies and finally found one that could help me out. It took me a couple of years of finetuning but finally in 2021 the final product was finished!
A proud moment
The Stinger Storage, the one and only cartridge needle dispenser! Such a proud moment to have created something like this. The launch on the 13th of October 2021 was absolutely amazing and some of the biggest names in the industry joined my effect to promote it by becoming brand ambassadors!
It is now sold online via my own website www.stingerstorage.com but also worldwide! I have a European reseller Magic Moon and a USA reseller Nexus which holds the amazing brands of Kingpin, Tatsoul and Eternal tattoo!
The Stinger Storage is now a part of our industry and I couldn't be more proud! My workflow is perfect, organized and hygienic & I am happy that others shared my love for this way of working. If you want to see more click here or go to my website www.stingerstorage.com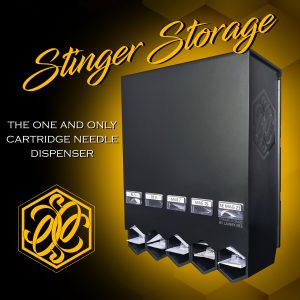 Thank you for reading my biography
I work very hard to make my studio the best it can be and I push myself to make every tattoo better then my last piece. This is why I wear my name 'Lainey Bee' with pride. Growing up surrounded by hardworking bees and a loving family, leaving me positive in life. As a tattoo artist and entrepeneur I work full of love and hope to make many people happy with beautiful work on their skin. Truly, I love the profession, the art form, the custom work and everything that comes with it.
Thanks to everyone around me! And thank you for reading my biography. I hope my vision shines through and it will create more love for our artform.