About Lainey Bee
I am a busy bee with 101 ideas that are quickly transformed into activities. I am an entrepreneur and an artist full of passion. I specialize in 'realistic color tattoos with a painterly twist' and adjust the contents of the tattoo to the personality and story of my client
The Story of Lainey Bee
I grew up in a small town in the Netherlands. Yes I am Dutch and speak Dutch but I choose to write in English so that everybody can understand me. 😉
As a little girl painting, crafting and drawing were my passion. I loved to lose myself in it for hours. I come from an artistic creative family so it came naturally to me. My mother is a natural carpentry and works with plants and flowers. My father is a beekeeper and paints and draws beautiful realistic landscapes and my brother is a landscape contractor and designer with his own business who designs and installs the most beautiful gardens.
Actually, I never thought I had one specific passion, although school was only fun for me if I could go to drawing lessons or crafts. The school system learned me I had to earn money to setup a life and arts were just for fun…(I guess not everything they teach you is correct) I soon became interested in psychology and physiology which resulted in the study of Naturopathy and Child Psychology. After working with children for several years (project management for the new arts in Arnhem, guidance in boarding schools and juvenile prison) I got ill. I couldn't work for a number of years, which was horrible! Doing nothing is clearly not my thing! Luckily it also taught me about being patient and working with passion and discipline.
I Slowly started working with my parents at their beekeeping farm where they also worked with autistic children as part of their schooling program for the Department of Daytime Activities. But it did not give me enough energy. I was missing something. I did not know what could be but it was clear that I had to go in a different direction. I decided to stop and before I knew it another door opened. I started working as a shop manager and piercer in a tattoo shop. Between my tasks, I filled the time by drawing. The passion for art came back to me. Something that I had not done in years gave me energy again. I was motivated to tattoo and create art.
Practice makes perfect, so I threw myself completely into tattooing. I soon knew I wanted to create a place for art. No flash tattoos but custom tattoos. Not an oldskool, walk-in tattoo shop but a tattoo studio. A place where I can work for the love of tattoos and that of art. A place where I have the time for personal contact with my customers and can really design something suitable for them. I wanted to create a place where I can be in balance with myself.
I am busy bee with 101 ideas that are quickly converted into actions. I dare to take risks and fight for what I want and for the people around me.
I established Flowinkstudio on October 13, 2014. It started in a small private studio with endless possibilities! Flow; the optimal state of experience, applies to both me and the customer. To me the world is standing still for a moment when I'm tattooing. Tha's why I only work in a good vibe and thought this would be a very suitable name for my new 'home'.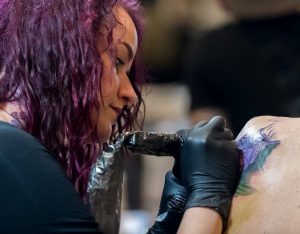 There is no limit to my development. I tattoo art which I stand behind, with my love for detail and nature showing in each piece. I embellish the customer's body with an experience that suits their body and personality. I offer one on one sessions. A moment for the customer, without other distractions. We capture a part of their life in symbolism.
I wanted to continue my love for the profession and my awesome customers in a larger line; involve more artists in the Flowinkstudio process, creating love for art and reaching international customers. Flowinkstudio represents who I am and what I want to convey. It is a studio that delivers quality and has a positive organic flow in its appearance and working method.
3 years later (and after 3 months of blood, sweat, and tears of remodeling an old building) I moved Flowinkstudio on October 1, 2017, to a larger building to make all my dreams come true. From a small private studio(450 sqaure feet) to a building with about 2,000 square feet! An old, neglected building became a beautiful serene transparent studio which I am very proud of. The team grew bigger, Robert and Sam joined me. A strong team with a good relationship can move mountains and you can see that!
My own international career is gaining momentum and Flowinkstudio is well filled with great artists! I travel the world to attend some of the biggest tattoo conventions and guest with colleagues and friends in their studio's.
When I started tattooing I started out as an black and gray realism artist until I discovered the power of color tattoos. My style now describes itself best as 'realistic color tattoos with a painterly twist'. I adjust the contents of the tattoo mainly to the character, body and story of my client.
I work very hard to make my studio the best it can be. And I push myself to make every tattoo better then my last piece. This is why I wear my name 'Lainey Bee' with pride. I grew up surrounded by hardworking bees and a loving family, Leaving me positive in life. I work full of love as a tattoo artist and hope to make many people happy with beautiful work on their skin. I love the profession, the art form, the custom work and everything that comes with it.
Thanks to everyone around me!
If you want to follow my daily activities please check out my storylines on Instagram.